BARRY SINGER - Arlington-Belmont Chorale and Chamber Chorus Music Director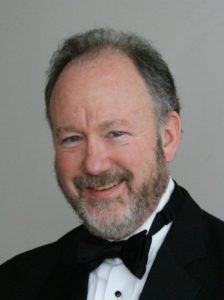 BARRY SINGER, Choral Music Director of the Philharmonic Society of Arlington, has been the conductor of the Arlington-Belmont Chamber Chorus since 1994, and the Arlington-Belmont Chorale since 2004.
In addition to conducting, Mr. Singer is a multi-instrumentalist, vocalist and composer/arranger, equally at home with concert, liturgical, theatre, jazz and popular music. For over 40 years he has made a career as a busy resident of concert stages, theatre pit orchestras, dance floors and pop music bandstands.
Mr. Singer has directed several groups in recent years in addition to the Chorale and Chamber Chorus. He has served as Chorus Master and assistant conductor for Concord's Opera51 since 2013, and was Choral Conductor for the Appalachian Mountain Club Mountains and Music program. Since 2012 he has served as Assistant Music Director for musical theatre at Arlington High School. Mr. Singer has been a guest conductor for the Paul Madore Chorale Summer Sing series and the M.I.T Gilbert and Sullivan Players, and in 2009 served as interim Music Director for the First Parish Church in Needham. He is active in musical theatre as well, and in fall of 2013 was Music Director for TCAN Players production of The 25th Annual Putnam County Spelling Bee. Other past music directorships include the Arlington Friends of the Drama and the Sudbury Savoyards. He was a founder, member, and co-leader of Serious Fun, an award-winning contemporary a cappella group.
Mr. Singer received his degree in Composition from Berklee College of Music where he studied with John Bavicchi and Jeronimas Kacinskas. The PSA has premiered three of his choral works, Three Times We Parted (1992) and For I Know Well The Spring (2006) written for the Chamber Chorus, and Lux Aeterna (2002) for the Chorale and Orchestra. Mr. Singer composed the music for the Off-Broadway play, Looking for Billy Haines, which ran in New York in 2010.

Mr. Singer first began singing in high school, and studied voice while at Berklee College. From 1983-1998 he sang with the Boston Symphony Orchestra's Tanglewood Festival Chorus in numerous performances and recordings with the BSO and Boston Pops Orchestra. Mr. Singer served as baritone soloist with the Congregation Shirat Hayam of the North Shore from 2002-2010, and for many years was the baritone soloist and section leader at St. Peter's Church in Weston.
On the instrumental side, Mr. Singer received flute and piano lessons from an early age, and added saxophone, clarinet, and electric bass while in his teens. Mr. Singer is an active piano accompanist, on staff at the Arlington Public School system since 2001, and at Concord-Carlisle Public Schools since 2009. For many years he has served as summer pianist/organist at St. Peter's Church in Weston. Other current performing activities include frequent work as a freelance jazz pianist, as keyboard/sax/flute player with the popular Boston-area dance band Firefly, as a keyboard and woodwinds player for area theatre groups, and as a piccoloist and sax player with the Boston Windjammers, a professional marching band.
Mr. Singer is on the faculty at the Music Maker School in Acton, and maintains a private studio in Arlington where he teaches piano and music theory and provides audition coaching. He and his family have lived in Arlington, MA, since 1989.
SARAH TELFORD - Arlington-Belmont Chorale Assistant Conductor
SARAH TELFORD is familiar to MetroWest audiences mainly as a soprano, having sung leading roles with the Concord Players, the Sudbury Savoyards, and the Friends of the Performing Arts in Concord (FOPAC), as well as freelance concert work, including the soprano solos in Ravel's Trois poèmes de Stéphane Mallarmé with the Concord Chamber Ensemble under the direction of Alan Yost, Faure's Requiem with the Arlington-Belmont Chorale, and Orff's Carmina Burana at a PSA Open Summer Sing. As pianist, she served as accompanist in the Sudbury Public Schools from 2008 – 2012, and with the Sudbury Savoyards 2003 – 2010. In addition, Sarah has sung in the Boston Symphony Orchestra's Tanglewood Festival Chorus for nearly twenty years, frequently serving as French diction coach for the group. Equally at home in the world of pop music, Sarah fronted the dance band Firefly for twelve years as lead singer and keyboardist, performing throughout New England at weddings, functions, and clubs. After directing HMS Pinafore, The Mikado, and Die Fledermaus for FOPAC, Sarah decided to focus primarily on conducting, which she is now studying at the School of Music of the College of Fine Arts at Boston University.