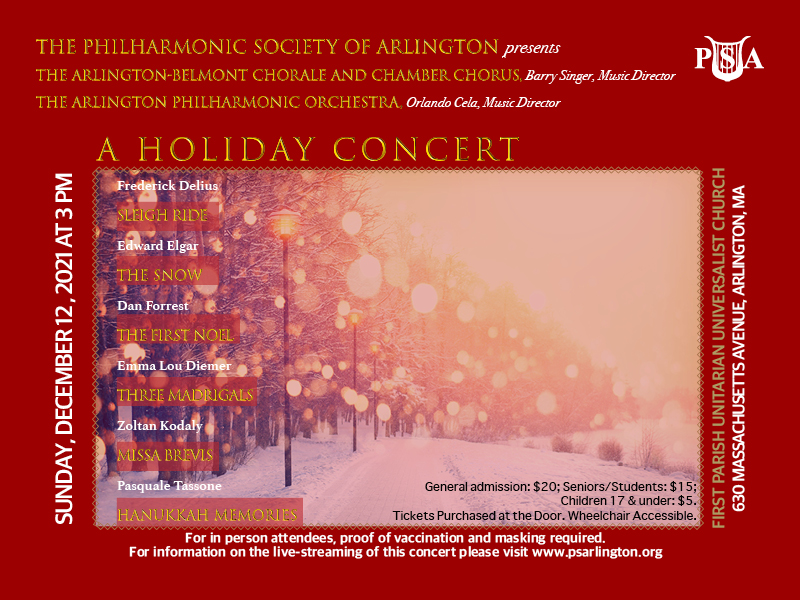 Our in-person December 12th concert was also live-streamed.  This concert was the first time in two years that the Chorale and Orchestra made music together and it was a joy to perform.  You can access the video of our concert by clicking HERE.  You may also read or print out a copy of the concert program HERE.
Family Concert!
The Arlington Philharmonic Orchestra presented its annual Family Concert on March 28, 2021 in a virtual format. After Music Director Orlando Cela presented "The Instruments of the Orchestra", the concert featured Pasquale Tassone's "How Bear Lost His Tail", a musical storybook based on a Native American folktale, with illustrations by artist Abby Cali and narration by Jeff O'Neil. Other recorded works featured cello soloist and Young Artist Competition winner Haley Kwoun playing Saint-Saens' "Allegro Appassionato" Op.43, and "Estampas Mexicanas" by José Elizondo, with an explanation from the composer himself on how he writes his music. This program was supported in part by a grant from the Arlington Cultural Council, a local agency which is supported by the Mass Cultural Council, a state agency.
______________________________
The "Nimrod" Project
In the midst of the pandemic, in order to maintain their  "chops," Maestro Cela proposed that the Orchestra make a collaborative video of a well-known piece and here it is.
"Nimrod" is the ninth variation of Elgar's "Enigma Variation," and it refers to Augustus Jaeger, a music publisher in London. There was a point in time when Elgar was very depressed, and about to give up writing music, but Jaeger encouraged him to continue composing. Today, the Arlington Phil performs this work as a way of saying that, no matter how difficult the times, we will continue making music.
Orchestra members were asked to play their own part. Those who were able to submit recordings were given certain parameters, then the videos were edited together, and the sound mixed to account for the different recording levels. All the playing in the video is done by the shown players."
______________________________
______________________________
"L'dor vador"
This work, "L'dor vador" by Meir Finkelstein, was scheduled to be performed at a late-April 2020 Chorale Concert. L'dor vador refers to "continuity, to the responsibility of passing on spiritual knowledge and cultural traditions from generation to generation".  It also embodies the notion that "all endings engender new beginnings". With the arrival of the COVID pandemic, our musical season was abruptly ended. Our Music Director, Barry Singer, introduced the idea of a virtual performance of this beautiful piece of music. Chorale members were asked to sing their own part alone.  This was a real learning experience - many of the singers had never done any audio or video recording - and singing by oneself is a very different experience from singing in a large group.  Our Musical Director mixed the many audio recordings and edited the videos together to create this virtual performance.
Twenty-nine members of the Chorale, plus our long-time accompanist, Michael Becker, and our then assistant conductor, Kennedy McAlister (singing the sublime soprano solo), perform here.  Enjoy!
______________________________
        Come see and listen to the Arlington-Belmont Chorale as a Driveway Choir HERE.
______________________________