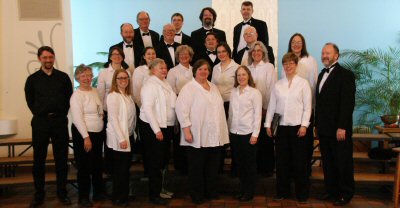 ___________________________________


The Arlington-Belmont Chorale is a member of the Greater Boston Choral Consortium, a cooperative association of diverse choral groups in Boston and the surrounding areas.
___________________________________
___________________________________
SING WITH THE
ARLINGTON-BELMONT CHORALE!
Rehearsals for the 2017-18 Season start on September 11, 2017
at 7:45 PM at the Park Avenue Congregational Church,
50 Paul Revere Road, Arlington, MA
Do you love to sing?  Is joining a chorus on your "to-do" list?  We are recruiting new singers for the Arlington-Belmont Chorale, a community chorus of over 80 members. Whether you sing soprano, alto, tenor, or bass, we welcome you to visit our rehearsals, sing with us and see if our group is a good fit. Chorale rehearsals are held at the Park Avenue Congregational Church, corner of Paul Revere Road and Park Avenue, Arlington, MA on Monday evenings, from 7:45-10:00 PM, starting on September 11. There is free parking on the streets.
Our first concert of the 2017-2018 season with orchestra will include Bach's Cantata No. 50, Nun ist das Heil and will feature Maurice Duruflé's Requiem.  More information about the Chorale and its musical schedule for the entire 2017-2018 year will be posted shortly here on our website.
Should you have specific questions about joining the Chorale, please email the Chorale chair at Chorale@psarlington.org.   We look forward to seeing you in September!
___________________________________
PLAY WITH THE
ARLINGTON PHILHARMONIC ORCHESTRA!
Rehearsals begin September 6, 2017 at 7:30 PM at the
First Parish Unitarian Universalist Church, 630 Mass. Avenue
The symphony orchestra has had a significant place in the history of music: Beethoven expanded it, Berlioz told unimaginable stories, Shostakovich took down regimes, and now you have the chance to join in a tradition like no other. The Arlington Philharmonic performs iconic works for large orchestra, spanning three centuries, including significant work with chorus.
We are looking for violins, violas, double-basses, and percussion to join us - winds and brass, please contact us at Orchestra@psarlington.org to join our sub-list.
Arlington Philharmonic Rehearsals take place on Wednesday evenings, from 7:30 pm to 10 pm at the First Parish Unitarian Universalist, at 630 Massachusetts Avenue, Arlington, MA (corner or Massachusetts Avenue and Pleasant Street, Arlington Center). Please check our website for information on our exciting programming, featuring works by Sibelius, Chopin, Poulenc, Tchaikovsky, Shostakovich, and others!
___________________________________
Our Next Concert:
The Arlington Philharmonic Orchestra's
FALL CONCERT
Sibelius -- Karelia Overture, Op. 10
Chopin --  Piano Concerto No. 1 in E minor, Op.11 featuring pianist
Clare Longendyke, our 2017 Young Artist Competition winner
Tchaikovsky -- Symphony No.4 in F minor, Op. 36
Sunday, November 5, 2017
___________________________________
Congratulations to the Winners of
The Philharmonic Society's
2017 YOUNG ARTIST COMPETITION!
Click here to go to the Winners page!
___________________________________
_____________________________________
The PSA's Concert Schedule for
the 2017-2018 Season is here.
_____________________________________